Water-Cooled Heat Exchangers
Shell & Tube
Save $$ when you are looking to replace your Heat Exchangers.
We offer up to 11 basic Shell & Tube configurations for
various custom designs. We can supply interchangeable units
as direct replacement to major brands such as:
Thermal Transfer, Ketema, Perfex, Young Radiator, Basco, API, Bell & Gossett and others, just ask us!!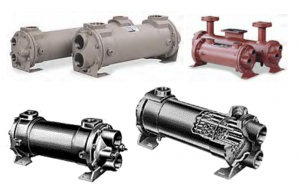 How a shell & Tube heat exchanger works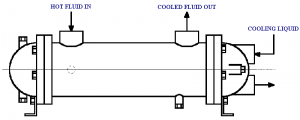 Looking to Save some money on a Shell & Tube heat exchanger replacement or for a new application?  Just let us know the manufacturer name and model number and let us quote a replacement heat exchanger for your cooling needs.
Typical Applications:

Standard Features:

Typical Materials of Construction:

-Fluid Power Systems
-Operating Pressure Tubes, 150 PSI
-Shell
Brass
-Injection Molding Machines
-Operating Pressure Shell, 250 PSI
-Tubes
Copper
-Paper Machinery
-Operating Temperature, 350 oF
-Headers
Brass, Steel
-Mobile Equipment

Our Featured Product Lines Include:

-Baffles
Brass
-Hydraulic Presses
-Standard TT500 Series
-End Hubs
Brass
-Gear Drives
-Standard TAA Series
-Mounting Brackets
Steel
-Torque Converters
-Standard TAB Series
-End Bonnets
Cast Iron
-Machine Tools
-Standard TAFT Series Aftercoolers
-Gasket
Black Nitrile, Nitrile Cork
-Compressors
-Standard THDF Series Aftercoolers
-Chillers
Available in Single, Two or Four Pass!!
-Steam & Air Applications

May be custom built to meet your specifications!!
Remember We Supply Shell and Tube Heat Exchangers for new Applications or Direct Replacements for name Brand models such as:
ITT Standard , Bell & Gossett
Thermal Transfer , Young Radiator
Basco, API , Ketema , Perfex
Others, just ask us!!
Plate&Frame - Brazed Plates
Our plate heat exchangers offer a rugged, lightweight compact design with a high heat transfer efficiency while maintaining a low cost.