THS also offers a variety of complete Cooling Systems in our product line, as well as replacement parts. 
Closed Loop Cooling Systems
Water to Air Fluid Coolers used to dissipate a heat load utilizing free ambient air.  These units are offered from single to twelve fan units, and are available in special designed skid packages depending on requirements. Heat recovery systems, as well as simplex and duplex pump stations are offered to complete the package.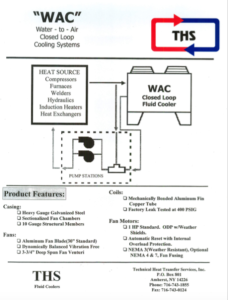 Chilled Water Units
THS exclusively handles Chilled water units that range in size, from 2-400 tons.  All units come complete with a tank, pump, evaporator, control panel, and condensing unit.  We also offer compressor options, which offer reciprocating, hermetic, semi-hermetic, screw, and scroll technologies.